Save On ScheduleAce NOW!
For a limited time Ryte Byte, Inc. is offering ScheduleACE at a reduced introductory price. Please call us for details to find out which version of ScheduleACE is right for your business!
Call (866) 356-6822 for more information.

ScheduleACE" for Clinics
By Ryte Byte, Inc. Engineering innovative software solutions since 1983

Overview
ScheduleACE is an advanced scheduling solution that you can use in your business to handle many of the problems faced by your staff in scheduling customer appointments, employees and equipment.
Use ScheduleACE to see trends in customer requests, view management reports to see how efficient your employees are. Cut down on time wasted traveling to and from customer sites by grouping appointments by location, and provide your employees with an easy way to view schedules in a number of ways.
Solutions with an impact

Feature
What it means to you
Simple to use

Lets face it, if software is too complicated your employees wont use it. ScheduleACE was designed for people who dont have a degree in computer science. Ease of use is ScheduleACEs number one value!

View a single employees schedule or multiple employees at once

A single screen shows an employee what their schedule looks like for an entire month or view a single day with all employees/crews schedules at once. Now you can really get rid of that chalkboard!

Waiting list

Put appointments on a waiting list when your schedule to too full to book them immediately. Openings in your schedule can be filled by simply dragging a waiting list appointment to, say, a quoters schedule.

Identify the result of every appointment

Use result codes to see how appointments end up, e.g. Sold!, Install Scheduled, Follow up, etc.

Schedule recurring appointments

Easily schedule repeating appointments from the original appointment, e.g. Annual Servicing, Monthly Inspection, etc.
Easily identify appointment status

Create your own Status Codes to define where an appointment is, e.g. Completed, Proposal Sent, etc.
Management reports

Use management report to see what appointments were not completed, employee efficiency, productivity reports, referral reports, marketing reports, etc.

Staff work hour scheduling

Schedule the times when your staff will be working

Live online technical support


Our technicians can work with you on your computer while you watch as we install setup and/or train you on ScheduleACE.


Routing sheets for crews*

Print a route sheet for a crew or employee, i.e. a map of where they are supposed to be for that day
Proximity scheduling*

Shows you the next time an employee is going to be in a certain area. E.g. within 5 miles of customer B on Friday, within 10 miles of customer C on Monday, etc.
Reliable!

ScheduleACE uses the same data handling technology that NASA employs, i.e. your data is save and secure.
Internet accessible*

View/update your schedule from anywhere in the world
With just a glance you can see what types of appointments are on the schedule for a day, week, month or anything in between. Easily identify key appointments using color codes or graphics. Well help you setup ScheduleACE to give your clinic the competitive edge youll need in todays competitive market.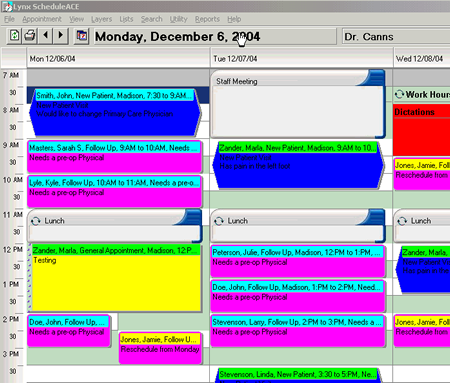 System Requirements

Recommended

· Windows 2000, NT 4, XP or higher

· Intel Pentium II processor or higher

· 200 megabytes of free disk space,

· 128 megabytes of RAM

Minimum

· Windows 95, 98SE, ME

· 200 megabytes of free disk space

· 32 megabytes of RAM

Additional Modules

Additional modules can be purchased at the same you purchase ScheduleACE or at a later date..

· Internet accessibility

· Document Scanning and Imaging

· Billing

· Palm Pilot TM Interface

· PocketPC TM

Specifications

· Synchronizes with QuickBooks TM

· Unlimited appointments

· Unlimited patients

· User-defined appointment results

· User-defined appointment types

· User-defined appointment statuss

· Repeating appointments

· Waiting list

· Production reports

· Efficiency reports

· Referral reports

· Enterprise Edition comes with Advantage Database ServerTM 10-user license and internet access standard

· Advanced user security, i.e. allow a group of users to only view the schedule or allow a single user to only see certain fields with a data screen.

· For best results use Windows 2000 or higher

· Double booking

· Email, text message support

· Live online technical support provided for installation, setup and training

· Color coding of appointments shows you the appointment type, status and result of each appointment

· Appointment alarms
Sales Question?
E-Mail us here

or

call toll free at
866-356-6822


BBB RATING A+


Software News Updates
Fast Support
Alternate Support
Site Map
News Updates from Ryte Byte
Ryte Byte is committed to providing individualized service. We will assist you in adapting our passenger transportation management software to the way you work. Whatever your needs, route optimizing, bus stop scheduling, detail reports, students, elderly, special needs passengers... we've got you covered. Sleep better at night with Lynx!
I dont know how we functioned before Lynx"! I have used it with much success, and I have found that the mapping data is far superior to the more expensive software products on the market. It is a Windows-based program that it is soooooo easy to use that all my personnel mastered the program in just a few days of working with it. Also, I have replaced three programs (fleet, inventory, and mapping) with one!
Geary Cooper
Gordon County Schools, GA
"I can't believe how easy it is to create routes, I'm actually having fun using Lynx. My drivers love the route sheets and now they are able to get to know all the students on their routes. It's made a big difference. ... and you don't have to know a lot about computers to use this program. This software is just what I wanted."
Bill Steinhauer
Mount Horeb Schools
"I can honestly say that the route building and main database setup you have right now is FABULOUS and will, in my experience, need very little tweaking. The improvements since you started, until now, have really impressed me and will make a lot of customers extremely happy, I think!!! Thanks so much to all of you for your time and hard work and friendship. It's made our job here a lot more easy!!!"
Mitch Kieffer, Kieffer Bus Service
"Lynx is easy to use and has saved me so much time. The routing, fuel usage, and maintenance reports are simple to create. Anyone will find this program a great asset to their business."
Joyce Kinnamon, Thunderbird Transit